Oscar de la Hoya is looking for a rival for his return to boxing and has a juicy offer for an old acquaintance, Floyd Mayweather.
Oscar de la Hoya was left wanting to fight, because the one he had agreed against Vitor Belfort could not be given because the fighter suffered from COVID-19, now he is looking for a new rival or perhaps an old acquaintance with whom to pay bills.
Floyd Mayweather was one of Oscar de la Hoya's executioners in 2007, when the Mexican-American was already close to retirement and 'Money' was close to his prime. Although the winner was Mayweather, in the end, it was by split decision.
And since de la Hoya was left with a thirst for blood from the fight that he could not get into the ring and with the return of Floyd Mayweather to face Logan Paul, because Oscar would have in mind a rematch fight against 'Money' and settle accounts.
When Oscar de la Hoya left the Rossoblu restaurant in Los Angeles, a TMZ reporter asked him how he felt about being hospitalized for COVID-19, and the fighter replied: " 5 days of hell", really de la Hoya did not want to talk of that, but to send a challenge.
" Do you know who I'm going to call for my next fight? Floyd Mayweather. I will offer Floyd Mayweather 100 million, "he added. An authentic millionaire that Oscar de la Hoya plans to disburse for a possible fight, all that remains is for 'Money' to accept.
Oscar de la Hoya wants a big name to return to boxing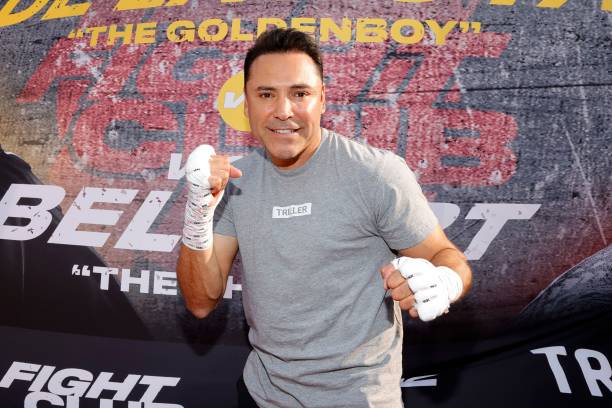 For Oscar de la Hoya's boxing career, the return to a ring after several years of retirement has to be against one of the best names in boxing, whether active, recently retired or even other legends.
First, he did not hesitate to challenge his former friend and pupil, Saúl 'Canelo' Alvarez and opened the possibility of a fight against him – we remember it here – then his official return would be against Vitor Belfort, one of the biggest names of mixed martial arts , but we couldn't enjoy that fight.
But it does not rest there, because the challenge that he has just put on the table for Floyd Mayweather and that there is no official response from the American, puts Oscar de la Hoya at the center of the boxing world. We do not doubt that any of the Paul brothers will join the fray, anything can happen.