Nunn and Butler lead Miami Heat 94-96 win at Staples Center.
The last quarter ends 17-15 with Alex Caruso missing the final shot.
It was not the best game in the world. But at least there was emotion. Miami Heat prevailed in the first game between last season's finalists. Victory against Lakers by a tight 94-96. With Kendrick Nunn and Jimmy Butler at the helm.
Nunn finished with 27 points. Splendid your first room. Butler added 24 points, 8 rebounds, and 5 assists. He came from doing 3 consecutive triple-doubles. Bam Adebayo accompanied them. With 16 points, 10 rebounds, and 6 basket passes.
The two teams came to the game with very different trajectories. The current champions, with a good number of victories. Although without Anthony Davis and without Dennis Schröder. Those who stayed at the gates of the title, with a very poor course to date. And without Goran Dragic and former Laker Avery Bradley. To which was added the loss of Tyler Herro. Herro could only play 14 minutes. He left the game due to an injury.
The meeting had two very different parts. The first was quite dynamic and was dominated by Heat. The second had more balance. But it was at times too erratic.
The last quarter was the culmination of a double rickety proposal in the attack. Part of the fourth period: 17-15! Few joys for the body.
The definition was in that way. Poor track on offense. And some big mistakes in moments of truth.
A 2 + 1 from Kyle Kuzma made it 92-94 with 1:28 to play. Kuzma was the top scorer in Los Angeles with 23 points. It continues to improve its performance. Followed by LeBron James with 19. To which he added 9 rebounds and 9 assists. But with bad shooting percentages. Unusual for LeBron. He didn't have his best night. And Montrezl Harrell added 18 points and 10 rebounds. Playing 24 minutes. But let's get back to the game. Kuzma brought the Lakers within 2 points of his rival.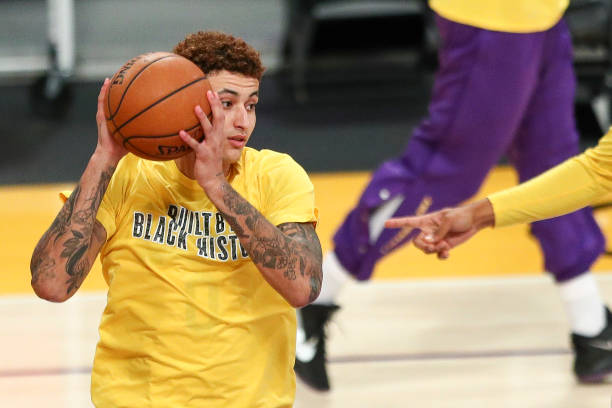 Then mistakes and more mistakes. Duncan Robinson missed Kentavious Caldwell-Pope in attack. He hit him with his elbow. Very clear. It was his sixth foul. It was removed. Wes Matthews missed a 3-point shot at a key moment. Was Matthews the best player to take that shot? Doctors have the Church. Jimmy Butler made it 92-96 from free practice with 12.4 seconds remaining. LeBron looked for a forced triple that hit the side of the board. But Matthews was ready, swept the ball, and scored: 94-96. And 8.4 seconds to play.
The time-out served to see Butler laugh at the end of the game. He looked relaxed. He brought out the most experienced player in the Miami Heat. Andre Iguodala was the chosen one. But his pass to Butler was bad. Telegraphed and too compromised. And Miami lost the ball, thus giving the Lakers the option of winning the game. That attempt to win turned into an attempt to draw. Because Caruso was within the 3 line when he pitched. And his shot didn't go in. Matthews and Caruso as pieces to define the game! Maybe they weren't the best ideas for a champion team. And the Lakers lost.
Before, the grotesque last quarter had had a grotesque king. That dubious honor fell to Max Strus. He is a good shooter. He has played good games this season. But today, he insisted on leaving his mark on the court. And his bet went badly wrong.
Strus hit 6 3-pointers in the decisive final quarter and missed all 6! 3 of them threw them in an interval of 38 seconds! He finished the match 0 of 8 from beyond the arc! There were times when a Lakers-Heat deciding quarter was a Strus monologue missing 3s. Until Spoelstra saw fit to seat him. Surrealism in its purest form. Discredited for a match among the current finalists.
Fortunately, better things had been seen before. Kuzma's 3-pointer in the first quarter exhausting possession. A brilliant Nunn early in the game. A spectacular coast to coast from LeBron for 2 + 1 in the second quarter. A triple on the horn of Marc Gasol's break. Heat with 15 advantage at one point in the first quarter. With 14 playing the second. Result of 52-59 at halftime. Lakers coming to get ahead in the third act. Miami doing a 0-13 run to regain the advantage (66-76). Lakers defensive misses with Heat players scoring alone. Still playing the third quarter. A block from Adebayo to LeBron against the board. Already in the fourth room. Up to Strus's tacky joke. And culminating with a somewhat damaged ending.
Marc Gasol played 24 minutes. He had 6 points, 5 rebounds, 3 assists, and 2 blocks. He only shot 3. And he was left without victory.
Miami Heat breathes. He was badly missed. Now we have to see what happens to Herro's body.