Cristiano Ronaldo tied Ali Daei's record of 109 goals as the national team's top scorer, and Benzema scored again for France.
The day of the definition of Group F of the Eurocup, the group of the death, arrived. France and Portugal closed the curtain, in what was the reissue of the last final of the Euro, played in France and in which the Portuguese squad was the winner in overtime in 2016.
Five years later, Gauls and Lusitanians met again and signed a 2-2 draw thanks to doubles by Cristiano Ronaldo and Karim Benzema, and with which the scores came to Germany, after their 2-2 draw against Hungary.
The doublets of Cristiano Ronaldo and Benzema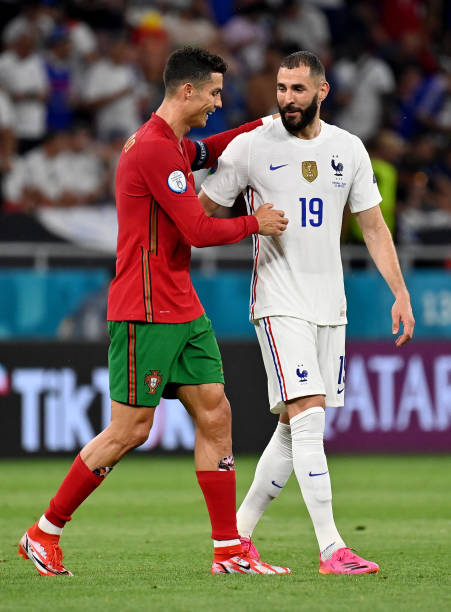 The Austin team found the first goal of the match from the penalty spot, after goalkeeper Hugo Lloris hit Danilo Pereira with his fist in his attempt to clear the ball. The whistler, Spanish, Mateu Lahoz, indicated the maximum penalty and immediately requested the entry of medical assistance.
Three minutes later, half an hour into the game, Cristiano Ronaldo, the top scorer in the history of the Portuguese National Team, executed the maximum penalty and put his squad ahead with his fourth goal in the tournament, with which he also arrived to 13 goals in the history of the Eurocup (without counting qualifying rounds).
When the Lusitanians and the French considered the 1-0 signed in the first half, the controversy arrived, because at 44 'Kylian Mbappé fell in the area after a light load from Nelson Semedo, and although the play was reviewed in the VAR, the decision of the maximum penalty was maintained.
Karim Benzema was in charge of taking the penalty and did it correctly. The Real Madrid player scored his first goal with the French National Team since October 8, 2015, when he signed a double with Armenia to debut as a scorer in a Euro.
Benzema turned the score around in the early stages of the second period thanks to a leaked ball from Pogba, and although the goal was disallowed in the first instance out of place, the VAR accepted the goal and France, who won their first game against Germany (here you can see the goals) once again showed their offensive power.
But Portugal once again found the tie with the third penalty of the night, after a hand inside the area. Cristiano Ronaldo returned to run and score, and with it, the Lusitano scored his 109th goal with Portugal, which tied the record of Iranian Ali Daei, the top scorer at the national team level.