It seems that everyone gained something with Messi's operation and his arrival at PSG – everyone except Barcelona, ​​of course. Why do we say it? Because even Michael Jordan received a check with a few million thanks to the signing of the Argentine with the Parisian club in the transfer market.
And you will wonder the same as us: why would Michael Jordan receive a percentage for the signing of Messi? The only answer that we have clear, regardless of this situation, is that MJ knows how to negotiate his contracts and never loses, quite the opposite. (Watch The Last Dance, and you'll know what we're talking about.)
What is MJ's relationship with PSG?
And ok, we know that money is what the former basketball player lacks the least because not only did he become one of the greatest players in the NBA, not to mention his short but juicy stint in MLB. Plus, their sneakers sell like hotcakes. And added to all this, Michael Jordan has agreements with PSG.
These agreements come from the sponsorship of the Jordan brand with PSG. So with the high sales of Messi's jerseys with the Parisian team, a fairly considerable percentage goes in the form of a check to Michael Jordan. According to The Sun newspaper, the percentage is 5 percent of all T-shirts sold.
As reported a few days ago, Messi's jerseys (or at least the first batch of Messi's jerseys with the number 30) sold out, and they managed to raise around £ 100 million from online and in-store sales. Stadium. This only means that MJ already has some £ 5 million insured in his bank account.
Still some checks missing for Michael Jordan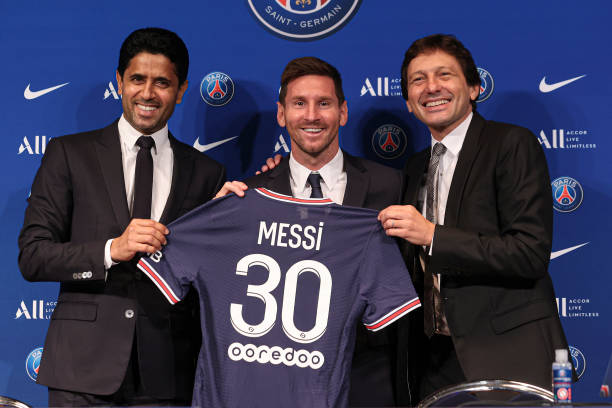 Although it may be that for Michael Jordan, the amount he received is less than everything he receives through other means, a few million do not dislike him.
With the first batches of jerseys sold immediately, PSG and Jordan will most likely continue to manufacture and ship batches to different parts of the world, not just reduce sales in France.
Surely a few thousand more jerseys will be sold when Messi makes his official debut with PSG, and if things in Ligue 1 and the Champions League go well for Messi and the club, the checks will keep coming to Michael Jordan.